Thai Menus
Jomthaifood
Presents Finest Thai Cuisine and Luxury Meal that you can enjoy at home. On this page you will find selected Thai menus composed of ancient recipes, royal Thai menus, popular
Thai menus

and even some rare dishes that do not exist in restaurants in Thailand. In addition sea food is very famous in the method of preparation and triple flavors of sour, sweet and spicy. Due to Thailands has two oceans this motivated the local people to create and adjust their love of flavor which became our heritage.
Appetizers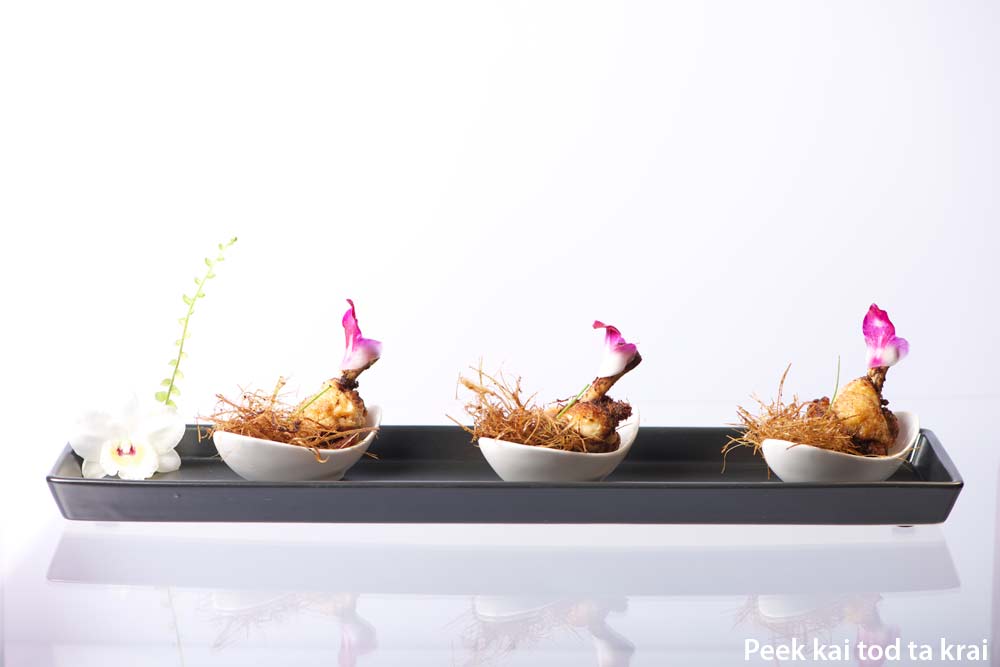 1. Peek Kai Tod Ta Krai. > Fried chicken wings with lemongrass.
2. Money Bags. > 
Chicken, water chestnut and herbs bunched in pastry serve with sweet chillies
sauce.
3. Miang Ta Ley.> 
Prawns and salad wrapped in rice noodle.
4. Nok Yong.> 
Fried Prawns serve with sweet sauce.
5. Satay chicken or shrimp.> 
Marinated chicken or shrimp fillet grilled and served with peanut, sweet vinegar sauce.
Main Courses
Soups
6.Tom Yum khung/Khai.> 
Spicy prawns/chicken soup with mushrooms, chillies, lime juice and herbs.
7.Tom Kha Gai.> 
Chicken with coconut milk, galangal, touch of chillies, mushrooms and herbs.
8.Tom Moo Sub Ka Lam Plee.> 
Chopped pork with herbs wrapped by cabbage.
9.Khang Leing Khung .> 
Thai spicy mixed vegetable soup with prawns
10.Tom Ma Ra,
Tang Kwa Yad Sai Moo Sub.> 
Stuffed bitter gourd/cucumber in clear soup
11.Tom Saab Neua.> 
Thai hot soup with beef
Curries 
12.Gaeng Massaman.> 
Mild beef or chicken curry with peanuts, potatoes and onion
13.Gaeng Keow Wan.> 
Green curry chicken, pork or beef with Thai eggplant
14.Gaeng Daeng.> 
Red curry chicken or pork or beef with bamboo shoots or Thai eggplant
15.Panang curry.> 
Creamy curry chicken, pork or beef with kaffir lime leaves
16.Chu Chi Khung.> 
Prawns in dried red curry.
Fried
17.Khai Look Keuy.> 
Sweet and sour eggs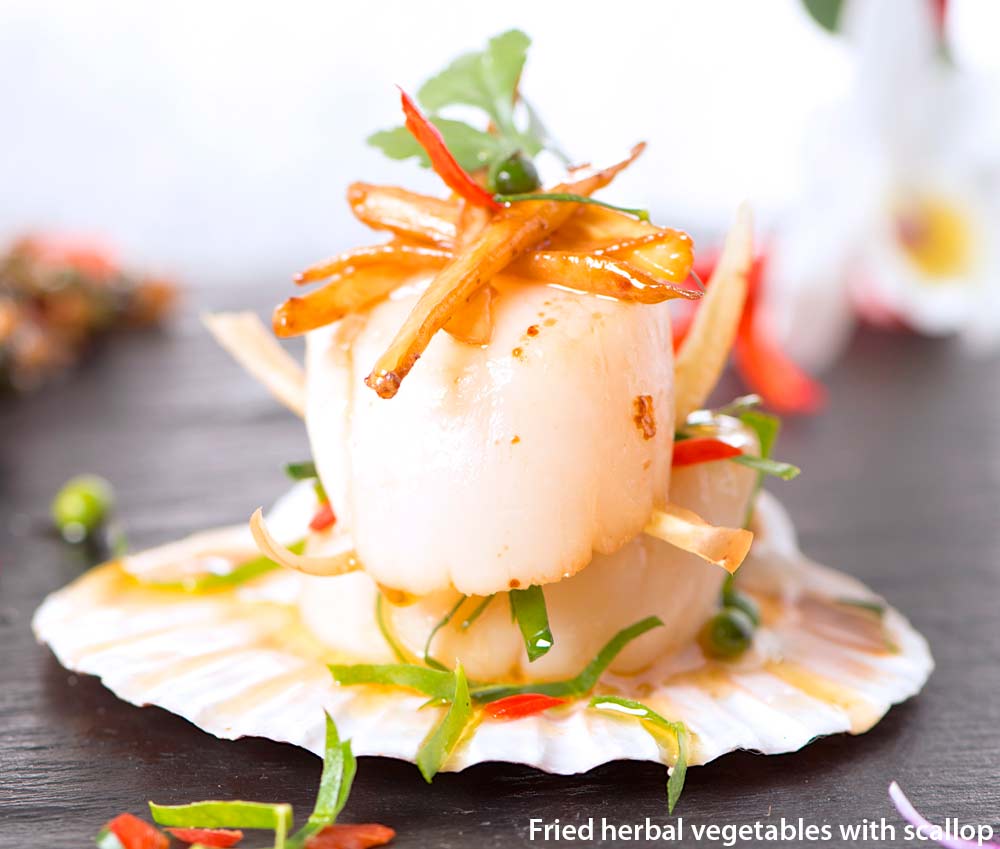 18.Pad Cha Hoy Chall.> 
Fried Herbal vegetables with scallop
19.Pad Thai Khung.> 
fried rice noodles with fish sauce, sugar, tamarind pulp and shrimp.
20.Pla Rad Prik.> 
Fried fish with chili sweet sauce.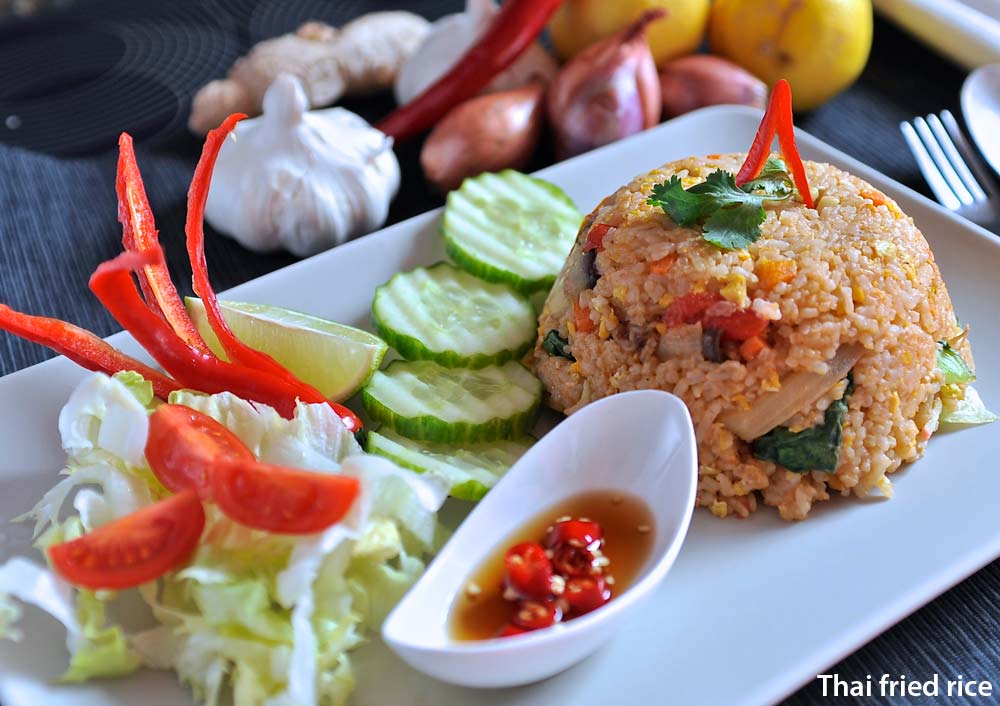 21.Thai fried rice.> 
Fried rice  with egg, spring onions, tomato.
22.Khung Rad Sauce Ma Kam.> 
Fried prawns with tamarind sauce
23.Khung Tod Kra Teim.> 
Fried prawns with garlic and pepper
24.Pad Ka Prao Khai/Khung.> 
Fried chicken/prawns with basil leaves.
Steamed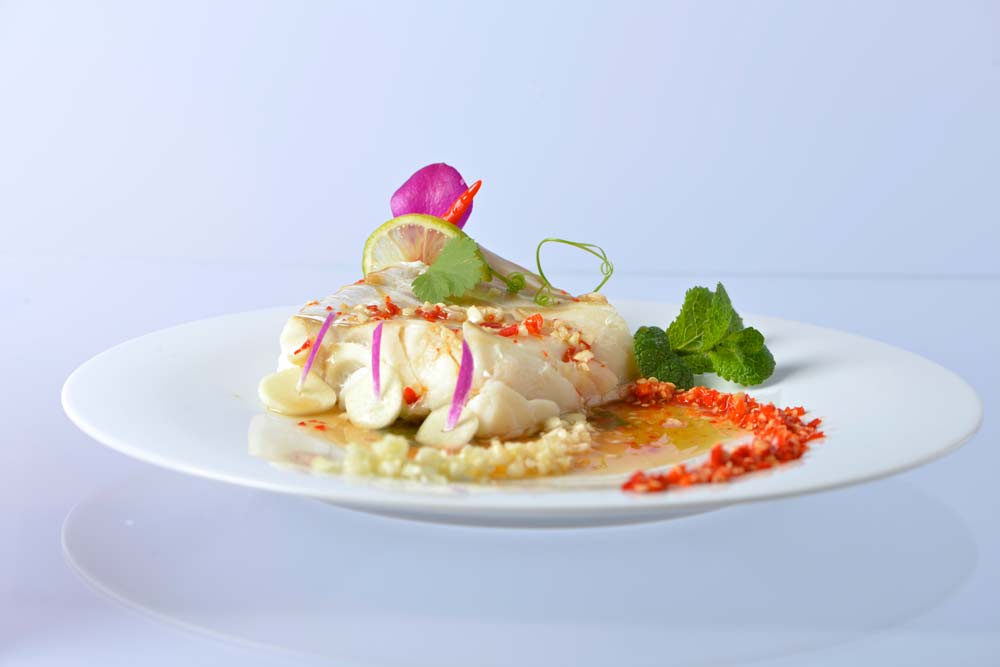 25.Steamed fish with lime juice/Pla Nung Ma Now.> Steamed fish which is drenched in a spicy garlic, chili and lime juice dressing.
26.Ho Mok Khung(Steamed prawns curry).> 
Steamed red curry prawns in banana leaf cups/coconut
27.Khung Ob Woon Sen.> 
Baked prawns and Mung Bean Noodle
28.Pla Neung Se Ew.> 
Steamed fish in soy sauce
Salad
29.Nuea Nam Tok.> 
Spicy salad with grilled beef.
30.Lab Kai.> 
Spicy and sour salad of chicken, shallots or onions, lime juice, fish sauce, chillies, ground roasted rice 
and mint.
31.Yam Woon Sen.> 
Thai vermicelli salad with prawns.
32.Plah Khung/Mhung.> 
Thai prawns/squids spicy salad.
33.Yam Pla Tuna Fu.> 
Crispy tuna with green mango salad.
Dessert
34.Bua Loy.> 
Dumplings in coconut cream.
35.Khaw Neaw Ma Mong.> 
Mango with sticky rice.
36.Tab Tim Krab.> 
Water chestnut with syrup and coconut milk.
38.Ka Nom Ko.>
 Plam suger wrapped in coconut.